Built-in support
Send a help request to our customer success team and get personal support.
Start a personal conversation with a support team directly from within Ticketmatic and get answers quickly. Ticketmatic is renowned for its excellent support, as our clients will gladly testify.
Getting started with Ticketmatic is straightforward, but ticketing matters can be complex. You may want advice on specific use cases, or you might not know how to handle an unexpected situation. At some point, you will need easy access to a support team that helps you out quickly and effectively.
Everyone at Ticketmatic loves events and is committed to making your events a success. Using the built-in support tool, you can get in touch with one of our team members individually and effortlessly. We will always try to find you a workflow that best suits your organization.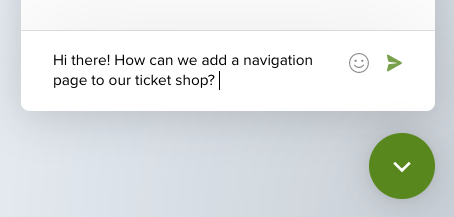 All support requests are monitored and prioritized by the team to ensure we meet high service levels and identify areas for improvement. We greatly care about customer satisfaction, so we make sure to always ask for feedback. We are proud that we consistently achieve a world-class customer satisfaction score.